Annual Plan
The Annual Plan 2020-2021 has been carefully developed taking into account the financial challenges of a post-COVID-19 world. It projects a $2.7 deficit and we have a strategy that includes tightly controlling expenditure and leveraging our strong balance sheet to return to a balanced budget by 2024-25.
Our annual plans set out what we aim to achieve in the given financial year through our work programmes and associated budgets. Annual plans update the forecasted outputs and financial information in the Long-term Plan. The LTP is reviewed every three years and outlines priorities, levels of service and budgets.
When we began planning for the Annual Plan 2020-2021 COVID-19 had not emerged, but when it did its impact was almost immediate in Southland with exports and commodity prices affected. For Environment Southland, it became clear that our income would drop significantly; $2.8 million in marine fees from visiting cruise ships would be lost and our financial portfolio was expected to reduce by $700,000; resulting in an anticipated total drop in income of $3.5 million for the year.
This came on top of the costs related to repairs of flood schemes following the floods in the Waiau in December 2019 and the Mataura catchment in February, which totalled about $5 million; $2 million of which would be met by reserves tagged for this purpose. Some of the cost will be met by insurance and more than $1.5 million was absorbed internally by reprioritising the catchment work programme.
In preparing this annual plan we took a hard look at our expenditure and reduced it by $500,000 on what was forecast in the LTP for the coming year. Savings were made through less travel and conferences, holding off on filling some vacancies and other various savings were made across council.
Councillors have been mindful that many Southlanders are dealing with the impacts of COVID-19 too, which led them to set the rates increase at 4.9%, which is a reduction from the 5.9% forecast in the LTP.
For more information, see our Frequently Asked Questions.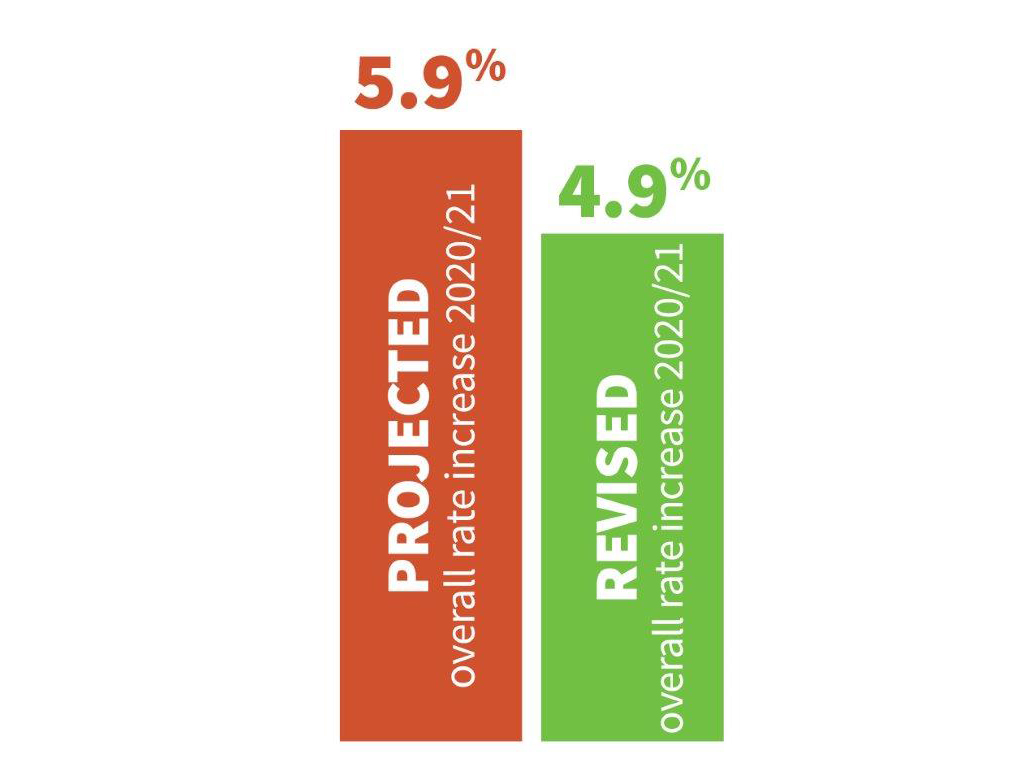 In setting the rates and reducing the expenditure the council was also mindful of ensuring it could still meet its ever-increasing environmental responsibilities. These include the Government's freshwater package, finalising our Water and Land Plan, continuing to build resilience to the impacts of natural hazards and climate change, and the many other levels of service expected of the council.
Regional council rates increases are not as high in dollar terms as local councils because they come off a lower base. For example, a house in Invercargill worth $235,000 will pay $16 more in rates. A variety of samples are available in the Annual Plan 2020-21.
Actual dollar amounts vary from property to property depending on a number of factors (See tables and note, below.)
This coming year the Council will be offering people the option of paying their rates in three instalments without penalty, via direct debit. More details on this will be available when the rates are struck in September.
Example property:

House in Invercargill with a valuation of $235,000

Current ES annual rates

$173

4.9% overall rate increase by ES = $ value

$16

Total ES rates for 2020

$189
Example property:

Sheep farm in Lumsden with a valuation of $2,955,000

Current ES annual rates

$1,868

4.9% overall rate increase by ES = $ value

$30.00

Total ES rates for 2020

$1,898
Note: The Annual Plan 2020-2021 is available on the Environment Southland website www.es.govt.nz and from our office, cnr Price Street and North Road Invercargill or by calling 0800 76 88 45. The Long-term Plan 2018-2028 is also available online.
Annual plans