Invercargill City stop bank upgrade
Environment Southland is upgrading the Waihōpai River (true left) stop bank to meet the increase in extreme sea levels in the New River Estuary/Kōreti resulting from climate change. The work is part of a broader vision to enhance the cities flood defences, including developing solutions for Otepuni and Kingswell streams and opportunities to enhance and protect the lower reaches of the Waihōpai River.
The Waihōpai River stop bank upgrade is a Resilient River Communities project. Resilient River Communities is a joint initiative between Kānoa - the Regional Economic Development & Investment Unit, regional councils, and local authorities focused on developing and upgrading vital river management and flood protection schemes in Aotearoa New Zealand.
By having resilient river communities, we hope to minimise environmental, economic, and social damage caused by flooding – making New Zealand safer for everyone.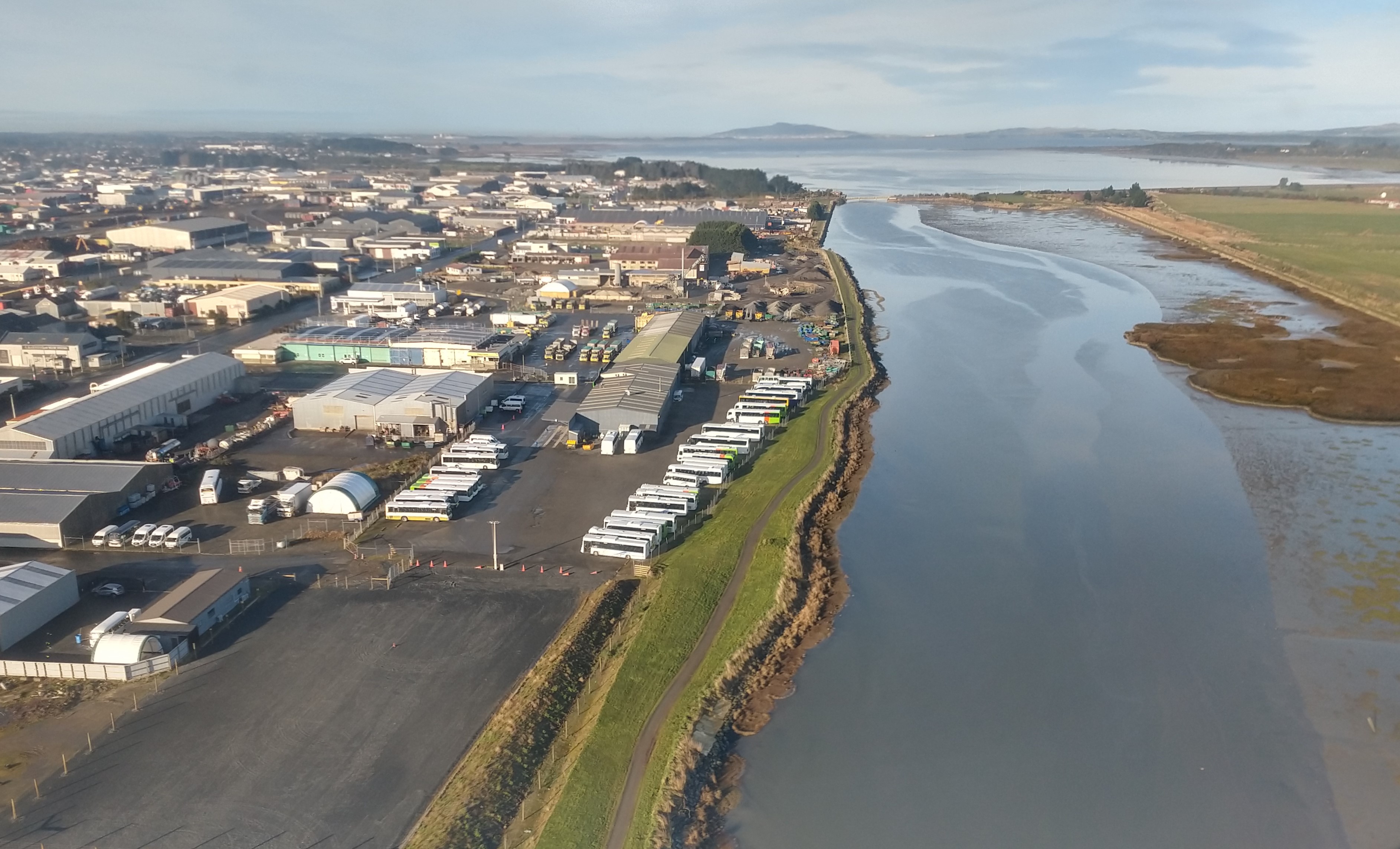 Invercargill is at risk from flooding from the three waterways surrounding the city and from high sea level/ storm surge events in the estuary. As a result, the flood protection for the city has evolved and developed over time. The last significant improvement to these protection measures followed the devastating January 1984 floods, when floodwaters forced more than 5000 people from their homes. Substantial investment in flood protection infrastructure followed, including construction of the Waihōpai River flood detention dam (large enough to hold a volume of water equivalent to 800 Olympic-sized swimming pools).
There have been no significant upgrades to this infrastructure since this time (essentially over the last 30 years).
The work
The latest climate resilience initiatives for the city include widening and raising the stop bank on the true left bank of the Waihōpai River between North Road and Stead Street. Widening the stop bank makes it more robust. It also allows for additional material to be added to the stop bank to increase its height, if required, as our understanding of the impacts of climate change and climate models change over time.
To complement this work, Invercargill City Council has replaced the Stead Street stop bank with a sheet pile wall and widened and raising the height of the adjoining Cobbe Road stop bank.
Together the projects will systematically begin to address the vulnerabilities Invercargill has to climate change and provide much more resilient flood defences for our community and Invercargill's critical infrastructure.
Multi-purpose pathways that have been developed along the stop banks will be reinstated. These pathways will be wider and consistent with other shared pathways in the region.
There will be some disruptions to the movement of traffic, cyclists and pedestrians while the work is underway. We will be implementing temporary traffic management plans to mitigate the increase in heavy transport vehicles and construction machinery. Temporary road, footpath and cycle track closures and detours may be necessary.
Benefits
Increased protection for people, homes, communities, and critical infrastructure
Work completed with central government funding assistance
Enhanced shared path network for Invercargill/Waihōpai
Project update (1 October 2022)
Site investigations and detailed design associated with the Waihōpai stop bank modifications are underway
Engagement with affected landowners and key interest groups has commenced
Tendering underway
Next steps
Obtaining final approvals for the work to proceed
Contracting
Construction is scheduled to start in December 2022 with completion by April 2023