Mataura flood protection upgrade
Environment Southland is undertaking riverbank stabilisation work and upgrading the stop banks that protect the town of Mataura (population 1500+). The work includes upgrades to the Boundary Creek and Waimumu Stream stop banks and remedial flood protection measures within the township.
The Boundary Creek and Waimumu Stream stop bank upgrades are Resilient River Communities projects. Resilient River Communities is a joint initiative between Kānoa - the Regional Economic Development & Investment Unit, regional councils, and local authorities focused on developing and upgrading vital river management and flood protection schemes in Aotearoa New Zealand.
By having resilient river communities, we hope to minimise environmental, economic, and social damage caused by flooding – making New Zealand safer for everyone.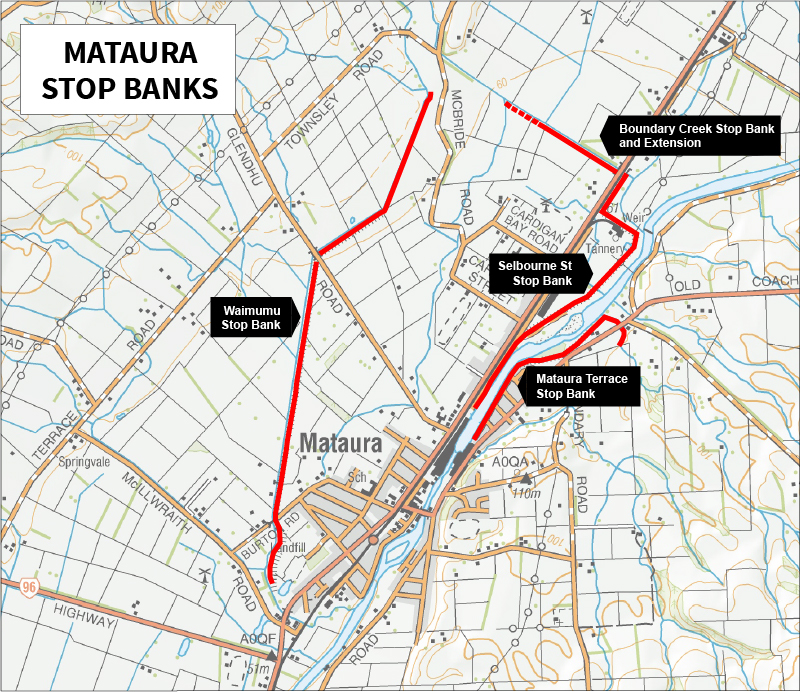 The Mataura flood protection scheme is a comprehensive river control scheme providing flood protection in the form of stop banks and channel edge stability through rock rip-rap revetments and willow trees. The network contains floodwater to the river corridor and the smaller tributary creeks and streams.
Extensive flooding in Southland in February 2020 saw stop banks in Mataura tested by floodwaters to near capacity, with the largest volume of water to pass under the Gore and Mataura bridges in recorded history. Emergency management and council staff, alongside Southland emergency services, evacuated 1500 residents in Mataura alone and 4500 + throughout the Mataura catchment.
Environment Southland carried out some remedial work on Mataura's stop banks soon after the February 2020 floods. Specialist engineers then undertook an evaluation of the stop banks as part of our climate resilience programme. This work identified a need for detailed geotechnical investigations and 2D hydraulic modelling to better understand the capacity and integrity of these stop banks and determine the best design solution for the town.
The work
The work to upgrade Mataura's flood protection scheme includes:
Strengthening, raising and reshaping the Boundary Creek stop bank, including an extension of the stop bank by 380 metres to the west
Strengthening 4 km of stop bank on the left bank of the Waimumu Stream
Implementing remedial flood protection measures within Mataura township based on comprehensive geotechnical investigations and 2D hydraulic modelling
Benefits
Greater protection for homes, businesses, and communities in Mataura
Safeguarding industries and infrastructure
Flood protection upgrade projects completed much sooner and at much lower cost to ratepayers
Project status (1 October 2022)
The Boundary Creek stop bank extension and upgrade was completed in April 2022
Survey of the Waimumu stop bank, detailed design and construction drawings (completed)
Consents and approvals for the Waimumu stop bank work obtained and tendering (completed)
Community drop-in sessions in Mataura, Wyndham and Gore held August to October where Environment Southland technical staff shared information about the status of Mataura's stop banks and answered questions
Detailed geotechnical investigations and 2D hydraulic modelling of the Mataura Gorge (completed)
Analysis of geotechnical investigations and 2D hydraulic modelling of the Mataura Gorge (underway)
Next steps
Contracting and commencing of earthworks for Waimumu in summer 2022, with expected completion in autumn 2023
Delivery of interim geotechnical investigation report in December
Further community engagement to discuss the proposed design solution for Mataura Gorge in late January – early February
Completion of 2D hydraulic modelling for Mataura Gorge
Photos of the works at Boundary Creek.