Gore flood protection upgrade
Funded: $1.5m by Government
Total project investment: $2m
Project duration: 2 year
Environment Southland is upgrading the existing stop banks in the town of Gore (population 7300 +). These upgrades will increase the protection standard for Gore in line with climate change projections. Improved public access along the stop banks and to the river is also part of the project brief.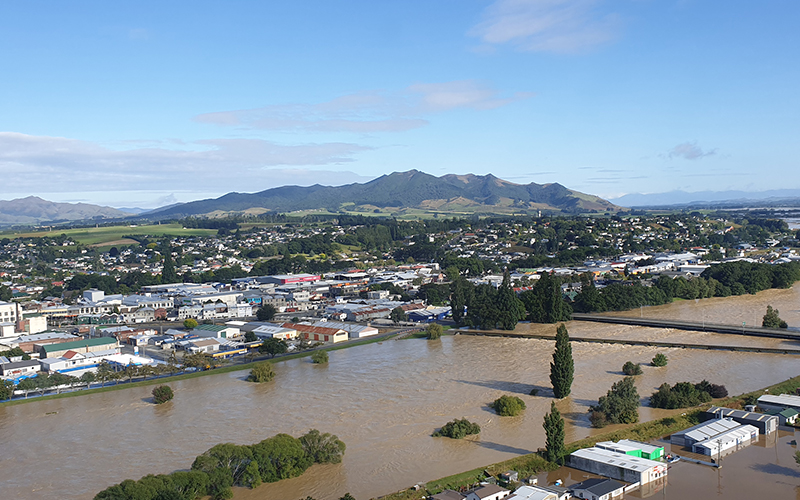 Very high flows in the Mataura River in February 2020 saw Gore's stop banks tested to near capacity with the largest volume of water to pass under the Gore and Mataura bridges in recorded history. Emergency management and council staff, alongside Southland emergency services, evacuated more than 2500 residents close to the river for a minimum period of 24 hours. Fortunately, the stop banks did a good job protecting those adjoining communities from river flooding, but damage to them was costly and time-consuming to repair.
The stop banks in Gore also protect the main road and rail bridges that provide vital links between Southland and the rest of the country.
Government funding received via the Kānoa - Regional Economic Development & Investment Unit (within the Ministry for Business Innovation and Employment) will see Gore's stop banks upgraded sooner than planned and at a much-reduced cost to Southland ratepayers.
The work
Gore's stop banks will be strengthened and raised to accommodate larger floods. The work will start this spring-summer and is to be staged over two years. The first stage will likely target Denton, Richmond, River, Toronto and Ontario streets and River Terrace. The second stage will be along Toronto, Hyde and Salford streets in the spring-summer of 2022/23.
Preliminary works will include the removal of fencing and trees located on the stop banks. Both trees and fences compromise the structural integrity of stop banks; our stop banks and floodways must be clear of barriers and obstacles to ensure that the infrastructure works as intended when needed.
There will be some disruptions to the movement of traffic, cyclists and pedestrians while the work is underway. We will be implementing temporary traffic management plans to mitigate the increase in heavy transport vehicles and construction machinery, resulting in increased travel times. Temporary road, footpath and cycle track closures and detours will also be necessary.
Benefits
Greater protection for our homes, businesses, and communities in Gore
Safeguarding critical infrastructure, including the State Highway 1 road and main trunk railway bridges
Flood protection upgrade projects completed much sooner and at a much lower cost to ratepayers
Alignment with Gore District Council's floodproofing work
Project status
Establishment of a collaborative working group with Gore District Council
Preliminary site visits completed
Ground Investigation and design for the first stage underway
Next steps
Consents
Public engagement