Mataura flood protection upgrade
Funded: $4.5m by Government
Total project investment: $6m
Project duration: 2 years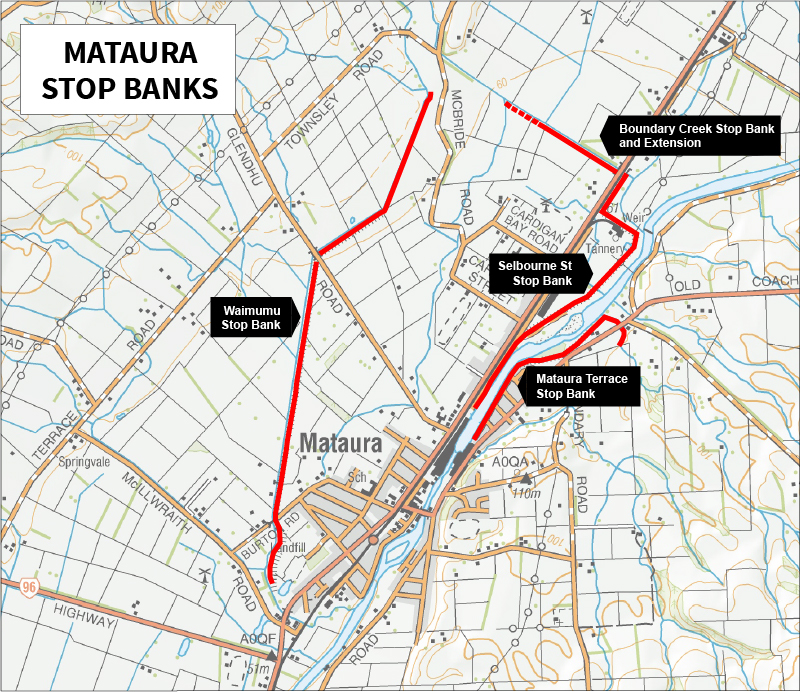 Environment Southland is undertaking riverbank stabilisation work and upgrading the stop banks that protect the town of Mataura (population 1500+). The work includes modifications to the stop banks on the Mataura River, Boundary Creek and Waimumu Stream. These upgrades will increase the protection standard for the town to align with climate change projections. The stop banks will be strengthened with additional erosion protection measures for the river stop banks to ensure network integrity under flood conditions.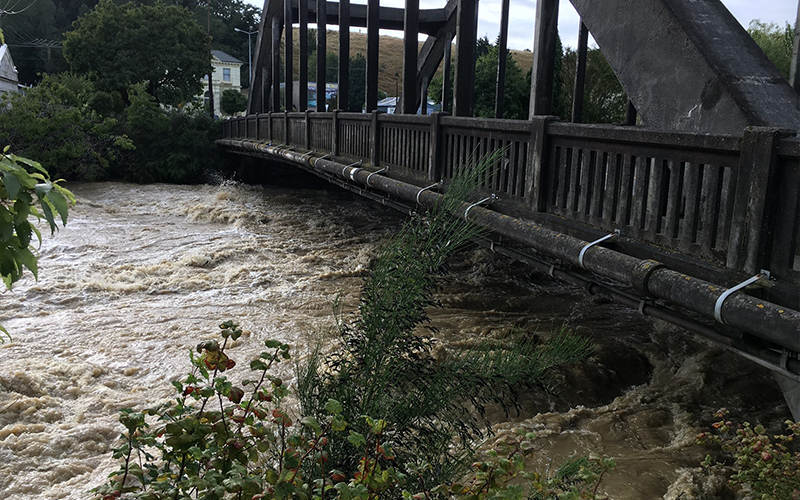 Extensive flooding in Southland in February 2020 saw stop banks in Mataura tested by floodwaters to near capacity, with the largest volume of water to pass under the Gore and Mataura bridges in recorded history. Emergency management and council staff, alongside Southland emergency services, evacuated 1500 residents in Mataura alone and 4500 + throughout the Mataura catchment.
The Mataura flood protection scheme is a comprehensive river control scheme providing flood protection in the form of stop banks and channel edge stability through rock rip-rap revetments and willow trees. The network contains floodwater to the river corridor and the smaller tributary creeks and streams.
Mataura's flood protection scheme safeguards the township and key industries. Government funding received via the Kānoa - Regional Economic Development & Investment Unit (within the Ministry for Business Innovation and Employment) means that Environment Southland can upgrade Mataura's stop banks at a much-reduced cost to the ratepayer.
The work
The work to raise and reshape Mataura's stop banks will take place over the next few summers and will include:
800+ metres of engineered rock edge protection to stabilise both banks along Mataura Terrace and Selbourne Street stop banks, upstream of the freezing works and old paper mill
Strengthening, raising and reshaping of the Mataura Terrace and Selbourne Street stop banks
Strengthening and reshaping the Waimumu stop banks
Strengthening, raising and reshaping the Boundary Creek stop bank, including an extension of the stop bank by 380 metres to the west
Benefits
Greater protection for homes, businesses, and communities in Mataura
Safeguarding industries and infrastructure
Flood protection upgrade projects completed much sooner and at much lower cost to ratepayers
Project status
Trees have been removed, and the foundation earthworks for the Boundary Creek stop bank extension completed
Construction Drawings have been completed for Mataura Terrace river edge protection and stop bank upgrade
Survey of the Waimumu stop bank is underway, and a consultant is in place to complete the detailed design and construction drawings
Next steps
Finalising consents and approvals for the work to proceed
Tendering of the Waimumu and Mataura River work
Commencement of staged earthworks in early 2022 with the total work programme spanning two years