Stead Street pump station replacement
Funded: $2.25m by Government
Total project investment: $3.5m
Project duration: 2 years
While much of Invercargill city is low-lying, Invercargill Airport is close to sea level. Consequently, the airport is surrounded by a comprehensive drainage network, including stop banks, ring drains and pumps. Several of these assets are owned and maintained by Invercargill City Council (ICC), with the remaining assets managed by Environment Southland.
In 1984 the airport was extensively flooded to depths up to 3m through the terminal buildings. The primary sources of that floodwater – the Waihopai River, Waikiwi Stream and Oreti River – underwent significant flood protection upgrades following the 1984 flood.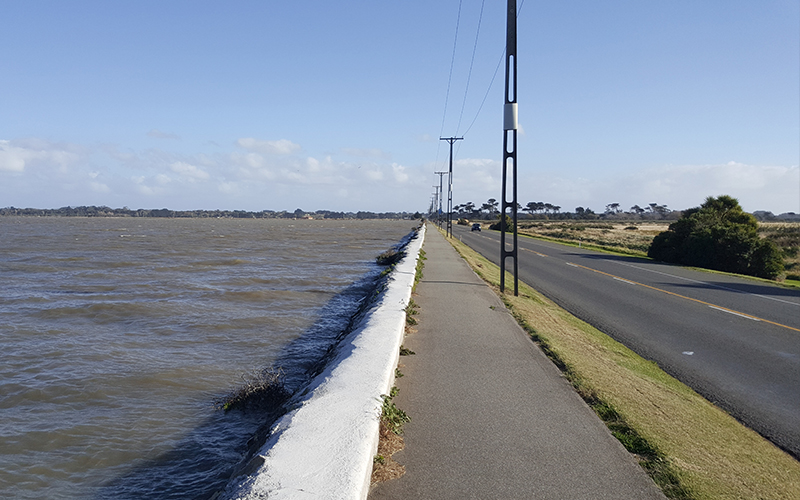 In March 2016, a phenomenon known as storm surge caused the sea to spill onto Stead Street, resulting in road closures and surface flooding of the airport. Storm surge occurs when sea levels rise during intense weather events. Climate change induced sea level rise will see the frequency and severity of these events increase.
The need to replace the Stead Street pump station is also driven by the age of the existing infrastructure, which is now over 70 years old. We intend to build a new pump station beside the existing structure that will house two new fish-friendly pumps currently being manufactured by our supplier in the Netherlands.
Government funding received via the Kānoa - Regional Economic Development & Investment Unit (within the Ministry for Business Innovation and Employment) will see the Stead St pump station replaced sooner than planned and at a much-reduced cost to Southland ratepayers. The new station and the new Stead Street floodwall are a collaborative initiative between Government, Invercargill City Council and Environment Southland providing a welcome boost to the city's flood protection. The work will build greater resiliency in the face of climate change for our communities and critical infrastructure.
Unlike the original pumps, the new pumps allow for the safe passage of native fish, including large tuna or freshwater eels. The design of the new pumps is based on Archimedes' screw pump technology, where fish are transported up through the pump without getting harmed.
The work
The new pump house will be constructed alongside the existing pump station, which will remain operational until the new pumps have been fully commissioned. The outlet pipes run under the road to a pair of electronically controlled flap gates which can be closed during extreme tide or storm events.
There will be some disruptions to the movement of traffic, cyclists and pedestrians while the work is underway. We will be implementing temporary traffic management plans to mitigate the increase in heavy transport vehicles and construction machinery, resulting in increased travel times between Otatara and the City. Temporary road, footpath and cycle track closures and detours will also be necessary.
Landscaping and planting for the area will be designed and delivered as part of the ICC Stead Street stop bank upgrade.
Benefits
Protection for our homes, communities, and critical infrastructure
Project delivered with substantial central government funding and accordingly at a much-reduced cost to Southland ratepayers
Greatly enhanced fish passage
Project update
Design for a new station to house the pumps underway
Manufacture of the new pumps in progress
Next steps
Completing design and calling for tenders for construction of the new station
Installation of pumps
landscaping and planting