Assessment of contamination at Tiwai Point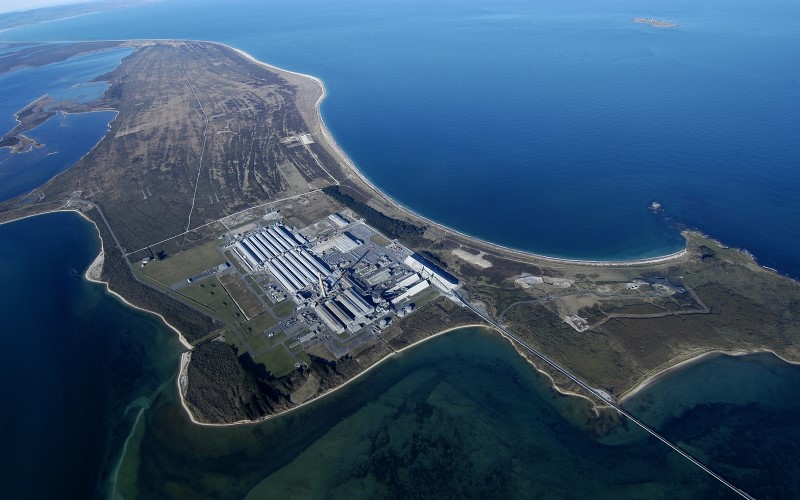 Contamination at Tiwai Point
Environment Southland is leading a programme of work, and working with others, to ensure a comprehensive and integrated approach is taken to understanding the state of contamination, and the standard of remediation required, for the Tiwai aluminium smelter site and surrounding environment.
Background
In 2020, New Zealand Aluminium Smelters (NZAS) announced it would close its Tiwai Point operations by the end of 2024.
In December 2020, David Parker, Minister for the Environment, asked Environment Southland to investigate the extent of the contamination at NZAS' Tiwai Point site and made funding available to support the investigation.
With any industrial operation of this magnitude some level of contamination at the site is to be expected.
Environment Southland is working to better understand the state of the site and to provide regulatory oversight of NZAS' consents and remediation plans as they become available.
The aluminium smelter at Tiwai Point is one of the largest industrial sites of its kind in New Zealand. The work required to establish the extent of contamination at Tiwai point is significant and complex. Everything Environment Southland does needs to be technically robust and within our legal and regulatory framework.
Environment Southland will publicly share information about its work relating to the site, providing it does not affect our regulatory role as a regional council.
In assessing the extent of contamination at Tiwai Point, Environment Southland has built on its existing compliance monitoring programme in relation to discharges to air, land, groundwater and coastal waters. This enhanced programme was informed by advice from environmental consultants, Aurecon and EHS Support. In January 2023 an independent monitoring programme was initiated to better understand the potential impacts of any contamination in the surrounding coastal marine environment.
NZAS is working cooperatively with Environment Southland's compliance team, including providing access to the site for site visits and environmental sampling.
Environment Southland and key stakeholders with regulatory and other interests in the Tiwai site come together regularly to ensure oversight of the programme delivery to promote integration, coordination and consistency in their related activities. Members include Te Runaka o Awarua, Te Rūnanga o Ngāi Tahu, Invercargill City Council, Ministry for the Environment and Department of Conservation.
Our assessment of NZAS's site report
NZAS provided Environment Southland with a Detailed Site Investigation (DSI) report prepared by its consultants GHD, in August 2021. The DSI report provides information about the contaminants found at the aluminium smelter site on Tiwai Point and is helpful in informing Environment Southland's work.
Environment Southland subsequently engaged EHS Support, an environmental consulting company with international experience in smelter closures, to review NZAS's DSI report and provide ongoing technical advice to the council.
The EHS Support assessment of the report found many data and information gaps in the DSI report, including that it didn't address the wider site. Further investigation is required.
EHS Support's key findings of NZAS's report include:
Contamination found at the site:

Surface soil concentrations of PAHs (polycyclic aromatic hydrocarbon) and fluoride above health risk criteria and ecological screening criteria
Fluoride recorded at 8-16% concentration in surface soil in select areas
Groundwater contaminated with "elevated levels" of fluoride, aluminium, arsenic, PAHs (hydrocarbons), and cyanide
Stormwater drains sediment contains "elevated levels" of fluoride, aluminium, PAH, and heavy metals.

Concentrations above generic or default risk-based criteria, above commercial/industrial and recreational health risk criteria, and ecological screening criteria, but there is not enough information currently available to establish if the contamination is impacting on the surrounding terrestrial and marine environment.
Indications contaminants from storage and other infrastructure may be escaping into the surrounding environment. More information is needed about the current landfill, the storage area for spent cell liners (SCL) waste containing cyanide and toxic levels of fluoride, measurements of contamination blown or washed from the facility to surrounding land and water, and historic onsite measurements.
A lot of data necessary for a full assessment of historic and current contamination across the smelter complex was missing, including exclusion of the landfill, SCL pad and wider receiving environment.
The data from NZAS is only a preliminary snapshot of the recent state of the site, the nature of the receiving environment, and some detail on contamination levels and not a Detailed Site Investigation report. Therefore, it should be renamed to reflect this.
Action Undertaken by Environment Southland
When Environment Southland began its investigation in early 2021, it increased its existing compliance monitoring programme in relation to discharges to air, land, groundwater and coastal waters.
In March 2022, Environment Southland served an abatement notice on NZAS requiring it to cease, within six months, unauthorised discharges of contaminants to land and/or water at the Tiwai site.
The abatement notice was based on groundwater monitoring data. It was for fluoride contamination at two locations: one relating to a well in the 'washdown area' north of the reduction lines; and the other at a well in the Inalco area.
Based on key findings in the assessment of the NZAS DSI report, Environment Southland officially requested in August 2022, a waste-stream management plan and access to the Tiwai site for an independent and expanded contaminant monitoring programme.
Action Requested of NZAS
NZAS has been working cooperatively with the Council, including providing access to the site, and the data in the NZAS-commissioned report is a further contribution to our programme.
The table below outlines Environment Southland's requests of NZAS since 2022 and the progress made to date.
Request

Status

Provide a summary of the network of groundwater wells that exist on the Peninsula.

Provided

NZAS has an extensive network of wells on the peninsula to investigate and monitor groundwater quality and hydrogeology of the site. NZAS has lodged a consent with Environment Southland to drill an additional 45 bores to increase the network (39 new and 6 replacement bores). Following discussion with Environment Southland, NZAS has agreed to drill a further 7 monitoring wells and include these in their monitoring programme.

Resource consent granted to drill wells

Drilling has been completed and samples have been collected by NZAS from the wells.

NZAS to extend the analytical suite of tests to help better understand the extent of contamination on site and better understand the hydrogeology of the site.

Done and included in NZAS monitoring programme

To provide updates on the status of Ouvea being stored in warehouses in Southland and Invercargill.

Provided

Progress reports on the status of the NZAS application to replace the landfill consent, which is due to expire in December 2023.

Pre-application meeting has been conducted, with another scheduled for January 2023

In March 2022 NZAS was asked to cease unauthorised discharges of contaminants to land/water relating to fluoride contamination at two areas: written proposal required in July, completion of remediation required in late September 2022.

Completed: Contamination source material now being processed at a more secure location onsite.

Monitoring is ongoing to assess any changes in groundwater quality

November 2021 and June 2022 monitoring data for groundwater samples collected by GHD as a part of the assessment of contamination on the NZAS land

Provided

August 2022 requested waste-stream management plan that outlines how and where the various types of NZAS-generated waste is disposed of.
Provided and being reviewed by Environment Southland
Access to the site for an independent and expanded contaminant monitoring programme that includes the landfill, spent cell liner pad and coastal marine area.
Granted
Independent monitoring programme
Independent monitoring into the impact of any contaminants from the Tiwai aluminium smelter in the adjacent coastal marine area was initiated in January 2023 and completed in February 2023.
An earlier expert assessment by EHS Support of an NZAS report about contamination at the site had noted "numerous legacy and ongoing sources of contamination to the environment" and key gaps in the data. The gaps related to the surrounding coastal marine area, the onsite 50-year-old landfill (now closed) and the on-site spent cell liner pad.
The objective of the independent monitoring was to start addressing the gaps in the data to increase our understanding of the impact that the smelter was having on the receiving environment.
EHS Support, designed the independent monitoring programme, in consultation with tangata whenua, and is undertaking the monitoring.
The monitoring included sampling and analysis of:
Sediment and porewater (free water contained in pores in sediment) and sea water from the intertidal area of Bluff Harbour (down gradient of the north, west and south drains on the Tiwai site) and Foveaux Strait, adjacent to NZAS' key operations (landfill, ouvea storage, spent cell liner pad areas).
Sediment, sea water and soil conditions from background samples located in Bluff Harbour, Awarua Bay and Foveaux Strait areas
Groundwater from selected wells adjacent to the coastal marine area
Now that the field work has been completed, results are being analysed and are expected to be made publicly in the first half of 2023.
The images, below, demonstrate some of the sampling methods used in the independent monitoring programme conducted January-February 2023. The monitoring was undertaken by smelter experts EHS Support. While it looks simple, a lot of effort and planning goes into quality control to ensure the samples are representative of the coastal marine area.
Warren from EHS is assisted by Graeme, our Tiwai technical lead. This piece of equipment was specifically brought in from the USA to collect long core sediment samples, efficiently. Its motor drives a long tube down into the ground, which is then leveraged out, with the sediment intact. In this demonstration only a short core was extracted.
Warren from EHS is assisted by Andrea our Tiwai consents liaison Lead to collect a sample of porewater. This water is found between the sediment particles on the bed and beaches of the Tiwai Peninsula and is linked to the groundwater. Porewater is the water that molluscs, like cockles or bottom swimming fish, come in contact with. It is effectively syringed out before being sent for analysis.