Summer swimming
Where to swim
Choose a great spot to swim: See the latest results on our online map
Check out swimming spots from around the country: See the latest results on LAWA
Download our factsheet: Where to swim and collect shellfish
We are lucky enough to have some wonderful spots in Southland to swim. But we all need to be aware of the bacteria which affect water quality and can make us sick.
Southlanders have helped to identify popular recreational spots that Environment Southland monitors for the indicators of harmful bacteria. Our monitoring sites are located at:
12 beaches (includes four estuary sites)
8 rivers
At the four estuary sites we test for both E. coli and enterococci.
What are we testing for?
To find out if the water at swimming spots could make you sick, we test water for indicator bacteria. Although they may not make you sick themselves, these bacteria tend to indicate the presence of other disease-causing pathogens (such as viruses and protozoa).
We don't test for the pathogens themselves as this is expensive and generally takes a lot longer. The bacteria we are looking out for in freshwater are E. coli and faecal coliforms. At marine sites we are looking out for enterococci.
Environment Southland uses two ways of assessing the water quality at popular swimming sites. These are:
Weekly monitoring of water quality over summer (the latest results are shown in our online map);
Incorporating long-term water data and other risks to give an overall Suitability for Recreation Grading.
During summer months (December through to the end of March) we update our results from monitoring at swimming spots every week. Use our map to find out the latest water quality results before you go swimming.
Harmful bacteria gets into our waterways through human and animal waste. This can be from sewage, septic tank discharge, farming run-off, industrial pollution and boats. The main risk swimming in or swallowing water where there are high bacterial levels is gastroenteritis, but infections of ears, eyes, skin and the respiratory tract can also occur.
Testing is carried out so we can measure bacteria against National Guidelines. Our water quality testing only covers these bacteria, not metals, other toxicants or viruses.
Toxic algae

Environment Southland conducts monthly monitoring for toxic algal blooms across the region.
You can see our toxic algae alerts here.
For further information on health risks: Public Health South, Medical Officer of Health, (03) 211 0900
For further information on environmental monitoring: Environment Southland 0800 76 88 45
Cyanobacteria, also known as toxic algae, are widespread in many lakes and rivers in New Zealand, particularly more so over the past decade. They are found across a range of water quality conditions, including relatively clean waters. Toxic algae blooms are more likely to occur over summer, and when rivers are low. The algae can produce toxins (called cyanotoxins) that are harmful to animals and humans when eaten, even licked, or when water containing the toxins is swallowed. Some people will have an allergic reaction to just touching the algae.
There are two types of toxic algae that form in Southland's waterways, benthic and planktonic. You are most likely to see the benthic type, which grown in rivers and streams. These algae form mats that detach from the riverbed and accumulate as scum along the river's edge. They also become exposed on the river's edge as the river level drops. Planktonic cyanobacteria (which you could also call floating or suspended algae) is different to that found in rivers. It tends to be hard to see as it forms little globules either suspended in the water, or floating on the surface making it harder to check for. This lake kind can also be invisible to the naked eye.
Children are at high risk of exposure or consumption, especially those who put things in their mouths when out and about. Dogs can be attracted to the musty smell of the toxic algae on riverbanks and in the water and can be poisoned from eating the slime or dried slime mats. Stock can wander into waterways with toxic algae and drink it, so you will need to arrange an alternative water source for them and keep them out of waterways. It is not safe to swim in rivers with toxic algae, and your wetsuit will not protect you.
Please see our list of frequently asked questions here.
Toxic algae and what you need to look out for from Cawthron Institute on Vimeo.
In this video, Dr Wood from Cawthron Institute talks about toxic algae in New Zealand rivers and what we need to look out for to keep ourselves safe.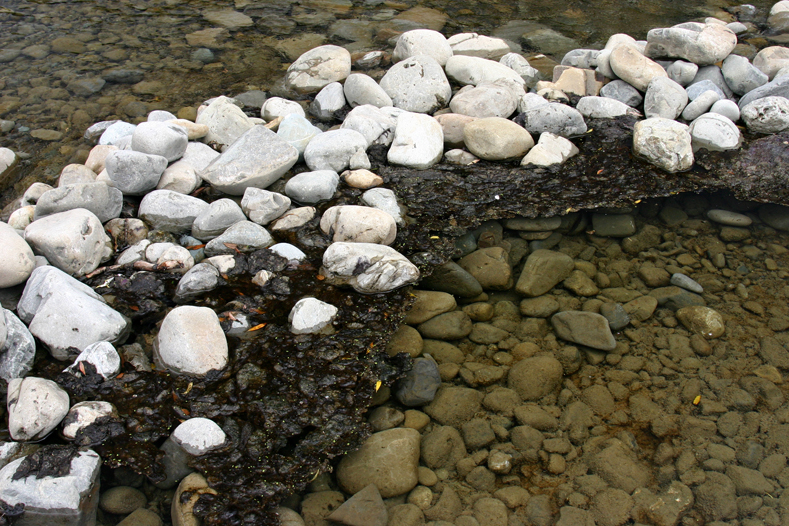 More information
View the guidelines on the Ministry for the Environment website